A meat Grinder made for quickly grinding the Meat, Bones, and vegetables also remain the real texture and work with consistency.
Nowadays people are more and more dependent on Meat Grinder for making sausages, Minced meat, Burger patties, and chopping vegetables. This very popular kitchen appliance in the current world.
The majority of people still don't know if it works when grinding vegetables on Meat Grinder. But a meat grinder is not only for making Sausages, hamburgers and others stuff, It's also a useful product for grinding vegetables. A meat grinder can easily grind any kind of vegetable when it's a heavy-duty grinder.
What Is A Meat Grinder?
A Meat Grinder is a tool made for chopping or mincing meat. Indeed heavy-duty grinder can grind Meat Bones and vegetables also.
So there is No Doubt Meat Grinder can Grind Vegetables.
There are two types of Meat Grinder available on the market that is  Manual and Electrical. For better consistency and smooth results people always preferred an Electronic based Grinder.
Can Manual Meat Grinder Grind Vegetables?
It can but it can't be a consistent performance like an electric one. Because it generates the power from the user to cut fluently machine needs good energy to grind vegetables. Also, it was time-consuming equipment.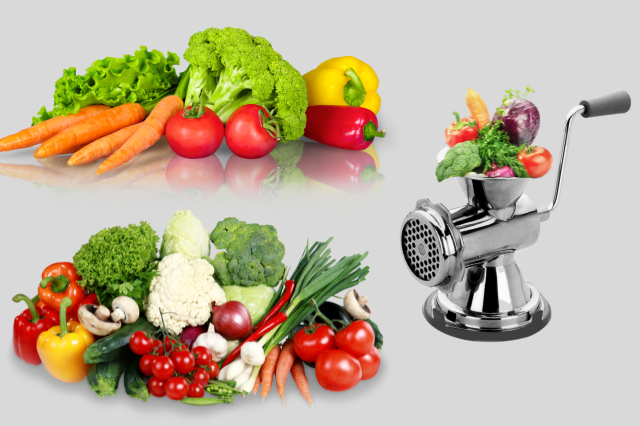 Can Electronic Meat Grinder Grind Vegetables?
"Yes," An electronic grinder is ideally created for heavy work like grinding vegetables, meat, bones, etc. In the case of vegetables, it's quite an easy task for an electric grinder because it has a motor and modern mechanism, and it's run by electricity.
Having a Meat Grinder its always been a bit of relief in terms of mincing meat or other ingredients. Let's go into the vegetable grinding process in a meat grinder. Let it discuss further paragraph
How To Grind Vegetables With Your Meat Grinder?
Grinding vegetables in Meat Grinder is go through a very simple process but before beginning the main course there are some elements needed.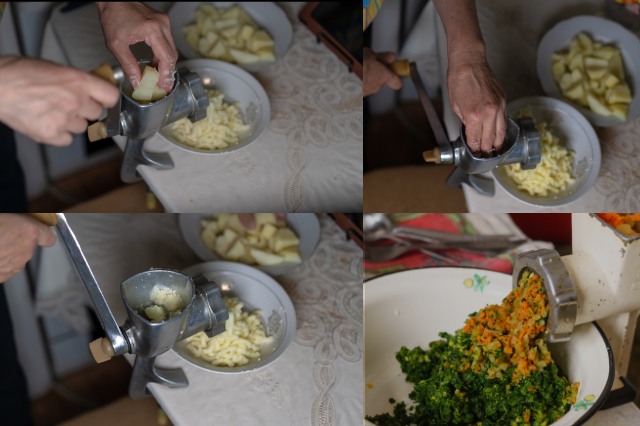 Essentially needed those items
★‍ Meat Grinder
★ Vegetables For Grinding
★ One Bowl
★ One sharp Knife
For purpose of grinding vegetables into a meat grinder, some steps need to follow.
Step:-1( cut your vegetables into the tiny piece)
First of all, you have to make sure all vegetables will go through into grind feeder into tiny shaped, perhaps a big bit of vegetables Doesn't any place for go through. In the case of Small shapes of vegetables, it will boost cooking speed. So cutting vegetables before grinding gives them tiny shapes by using a knife.
Step:-2( turn on your Meat Grinder)
After cutting vegetables according to meat feeder or hole. Now It's time for plugged in your meat grinder with electricity and Turns On the switch of the Meat Grinder(if it Electronic meat grinder). In terms of the manual grinder do not stand it any rough surface, therefore you have to make sure it stands on a good surface. Sat bowl under the output station of meat grinder for collecting grinding vegetables.
Step:-3( putting all vegetables gradually into grind Feeder)
When all is set go this time to pour your cutting vegetables into the grinder hole for grinding purposes gradually. You can push it with your hand or spoon. But don't let your finger or spoon go inside of the meat grinder.
Be ready for collecting grinding vegetables. After accomplishing all vegetable grinding you have to focus on cleaning the meat grinder.
How To Clean Meat Grinder After Grinding Vegetables?
It's a very important task to do after grinding vegetables because it may not be fruitful to let extra abandoned vegetables inside of the meat grinder it can turn into a disaster for taste-wise, safety-wise, and grinder longevity life. Therefore, you clean Once it is done with work.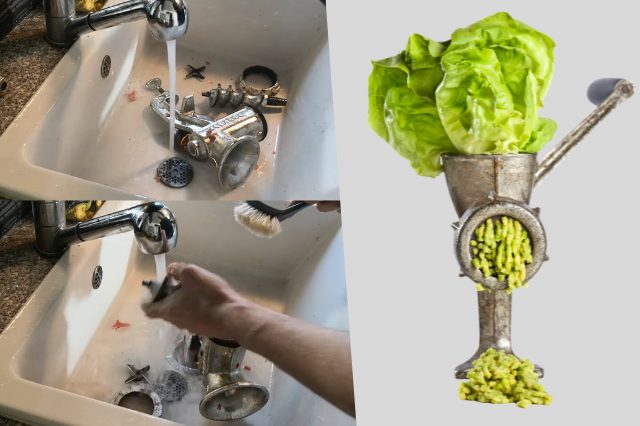 But it will take some content such as:-
★Bread
★ Soapy water
★ Brush
★ Soft clothes or Tissue
STEP:-1(Remove extra vegetables):-
After grinding vegetables, you need to remove extra vegetables from the grinder. you can pour Bread into the hopper for removing extra vegetables.
STEP:-2( Depart all parts of a meat grinder and Soaked into soapy water):-
Up next you need to dismantle all parts of the meat grinder following this you have to make sure to soak all non-electric parts in soapy water for while and brush it.if you do not have an idea about how to dismantle part of the meat grinder you can follow the Meatgrinder manual book.
STEP:-3(Time to Rinse):-
Once done with the brushwork then rinse all dismantle parts with warm water if possible.
STEP:-4(Dry all parts before installing)
After completing the rinse part now to remove all extra moisture from the meat grinder tools for this you should use tissues or soft clothes. Once complete the removing water into the grinder parts you need to dry it under the sun or you can rest it the whole night.
STEP:-5 (Reassemble and Store):-
After the dry process, You're free to reassemble all dismantle parts of the meat grinder and store them in a safe place.
Tips regarding grinding Vegetables into a meat grinder:-
♦ Try to use install perfect Blade which is made for Vegetable cuts. Perfect Blade always Provide Smooth results, by the way, don't forget!!! sharp it after using it a couple of times.
♦ If you looking to skip all kinds of hindrance on grinding time to ensure a small cut of your vegetables. Instead, if there are any unshaped vegetables push them into the grinder hole which might decrease the grinding Speed.
♦ You can rest vegetables in the refrigerator before grinding and do not boil it before grinding into Meat Grinder. Dry vegetables are always good for the grinder.
♦ If it manual grinder you can add little water into the grinding hole to faster work. But it may not be suitable for an electronic Grinder Because of its heavy engine and therefore it Doesn't need extra support.
♦ Try to wear gloves for grinding vegetables. Gloves will protect your finger and skin.
♦ Never use any metal in the grinding process, it can stop the whole process in a minute Because metal can break any inner part easily.
♦ Do not store the Meatgrinder without cleaning, also make sure to store it dry place.
Why Use a Meat Grinder for Vegetables?
There are a few solid reasons why is the best option to grind vegetables in Meat Grinder.
Firstly, a meat grinder is the best mincers that's is if have it you don't worry to take extra effort for it. After grinding it can be added to sauce or soups. Undoubtedly it will boost the cooking taste to the next level.
Secondly, we all know meat grinder is Multitasking equipment so that's why you can add any kind of vegetables at the same time which is can be turning into more vitamins and healthier for your body.
Last but not least, using a grinder instead of regular methods to cut vegetables It's such a quality time with that surely. After all, It is a smart appliance which is make cooking very simple and fast.
I believe when people buy it and execute it perfectly they can't feel hesitant or regretful about buying this.
The last word,  Yes there is no doubt to a meat grinder can grind vegetables without any difficulties. People always found it worthwhile when they wanna grind vegetables or grind bones or meat. For grinding vegetables in mear grinders need to follow a few crucial steps and in the end, need a clean meat grinder.
TILL THEN
HAPPY GRINDING