There are no boundaries to make something worthy even in cooking food. People are always very innovative about making dishes day by day many tricks have been introduced in our daily basis life. (How to inject meat without an injector is discussed here).
In recent times people adopt several approaches to making dishes more delicious. Therefore, they execute a lot of methods to make sure to give their dish top-notch touches. For instance, injecting is a very popular strategy for adding extra flavors and moisture to meat by pushing some ingredients through injection. That will help to cook efficient way to grill or barbecued.
Now I would tell about injecting in detail in my further writing and explore every aspect regarding inject or without inject.
What is Meat Injector?
Basically, it is a sophisticated method by which to improve the quality of meat and make the meat more palatable than before. This method of injection is done by injecting liquid ingredients with a long needle into different parts of the meat. This is known as meat inject. Although it helps to increase the flavor and moisture of the meat, it also plays a very effective role in saving time.
Meat injection is the most sophisticated way to infuse extra flavors into meats. whatever you pick such as Beef, Chicken, Pork, Turkey and so on you can easily add your personal preference liquid solution[marinade elements] by injecting meat.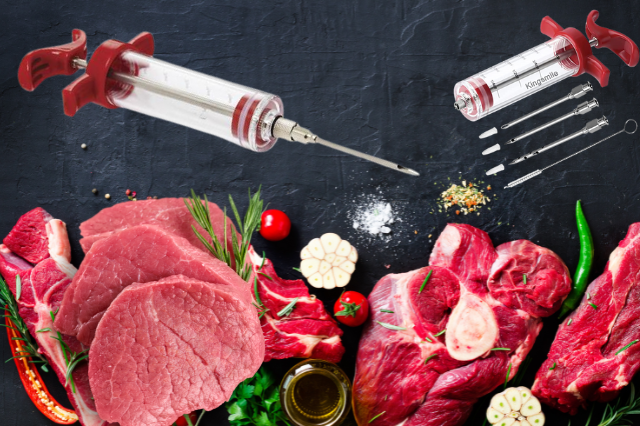 Why You Should Inject Your Meat Before Cook Or Smoking?
There are many reasons behind injecting meat! Many of us always like to eat good delicious food. The meat injectors work to make the meat more acceptable. As it juices the meat, it increases the excess moisture of the meat and even reduces the cooking time. For this, the meat should be injected before grilled or smoked meat.
In this article, I will elaborate on how to inject meat without an injector and I will reveal lots of tips and tricks regarding Cooking meat.
Are Meat Injectors Worth It?
There is no disagreement that this is really an important object. Which is a very popular secret weapon to add flavors very deeply, make the meat, even more, tenderize, and juicy, and make sure meat carried more moisture at the end. Marinade injections are a simple way to upgrade your meal to another level. Meals become worthy when people take injected meat.
Can You Inject Meat Without An Injector?
Injecting meat by the injector is indeed a pretty much useful method to push all marinaded elements in a short time as well as very effective. However, there is nothing to worry about it because it can be possible without an injector. There are authentic methods available for inject meat without using any kind of tools.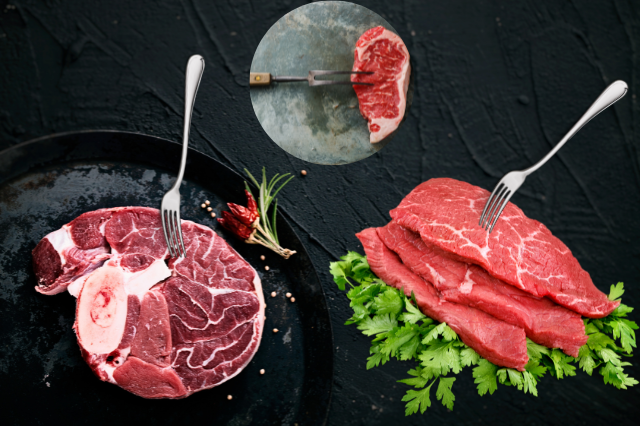 How To Inject Meat Without An Injector?
The very gentle way you can inject your meat. At first, you need some basic kitchen appliances such as a saucepan, a Container or plastic bag, a chopping board, a knife, and a sharp fork.
Let's Move On To The Main Process
Step 1: – At the beginning, you have to make sure the meat is perfect I mean that there is no extra fat in the meat. After cutting extra fat, wash meat with fresh water and remove water with tissue or heavy cloths.
Step 2: – Start heating the saucepan at a slow temperature and add butter to the saucepan. After melting all-butter add marinade recipes and wait until spreading aroma.When the injection solution is ready turn off the heat of the stove, and rest them before inject the marinade.
Step 3: – Here you need a sharp fork and chopping board. Now put the meat on the chopping board and take a sharp fork and poke every inch of meat on both surfaces even the edges. after piercing meat now time to put meat into a container or in a plastic bag and pour all the marinade liquid solution and seal the Plastic bag or cover up the container. Could you keep it in the refrigerator for while? After marinating this is your final product to ready for the cook.
This is the easiest way to inject meat without an injector. surely this is the most effective way to make your dish much more flavorful and increase taste as well as add moisture.
Some Tips and Notes:-
1)  Do not marinade with extra fat from the meat. Trim off excess fat before injecting meat.
2) Dry meat is ideal for injecting therefore, remove extra water from the meat.
3)Let them Marinate in the refrigerator.
4)Try to cook on low heat.
5) For better results use butter along with rosemary leaf.
6) After cooking let them set it will enhance the taste.
Frequently Asking Question
Can Any Marinade Be Injected?
Yes, it had to be tiny enough to go through by syringe. It actually depends on own interests and what people like to eat in terms of taste level everybody has a different perspective. However, You can add herbs as well if blended properly you can pass the syringe with a liquid solution.
Can You Inject a Beef Brisket Without An Injector?
Why not? You can easily inject your beef brisket without an injector. Take a sharp fork to pierce the beef brisket couple of times then marinades it into a container or plastic bag for half an hour. This is how you can infuse extra flavor just like a meat injector.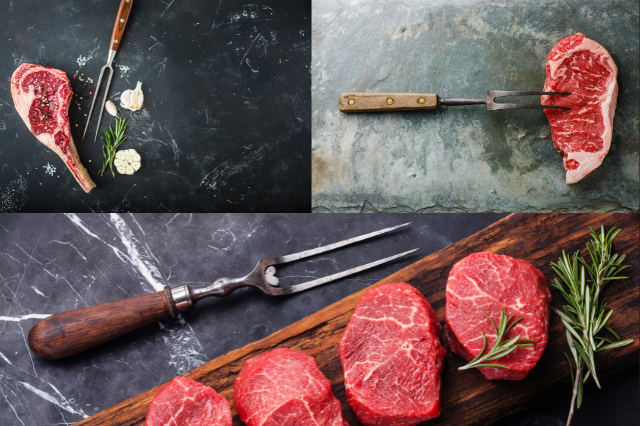 What Other Types Of Meat Can Inject?
You can inject almost all types of large cuts of meat, for instance, Turkey, Beef Brisket, Rib-eye, Chicken, Lamb, Pork shoulder, Ham's, Filet Mignon, Fish, Pork Loin so on.
When Should You Inject Marinade?
It's very important to know when is the perfect time to inject marinade. It would be ideal for the marinade injector 5/10 minutes before starting cooking. This amount of time will be enough for spreading ingredients everywhere in meat.
What is The Best Marinade Recipe?
Actually, It depends on people's personal preferences. The majority of people like some popular methods like adding salt, garlic powder, onion powder, Worcestershire sauce, tenderizer powder, and soya sauce, with butter all ingredients mix up and are then ready for injection. This is a very popular marinade recipe in every kitchen.
Note ( you can add beer too if you want)
What is Good To Inject Into Chicken?
It's a very old method for injecting chicken. The process begins with heating the small saucepan adding butter then adding lemon juice, salt, onion powder, garlic powder, black pepper, and chicken broth that's it. Stir it with a spoon until butter melts and well mix up all ingredients. Turn off the heat and add rosemary leaf for a better smell.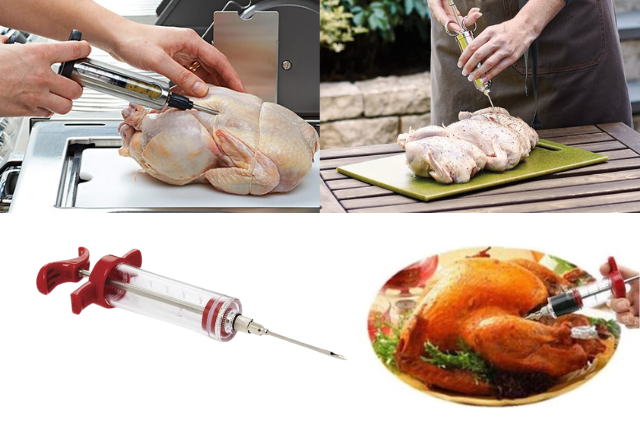 Conclusion!!
The meat injector is a very sophisticated method to inject meat which is become trendy across the globe to push extra flavor by injection. However, when its is time for added extra flavor, salt, spice, and juice into meat body injection is the best in business as well as time-saving.
Injecting meat with injector tools is not only one option for infusing flavor from outside to inside. There have very useful and very effective technics which is can inject any type of meat inside. Now you can inject your meat without an injector's help. For this, you need to follow some crucial steps which I wrote above in this article.